History of Bollywood - Indian Cinema
Mumbai-based Hindi language film industry (most famously known as Bollywood) was born in the early years of silent film resurgence in Europe and United States. Fueled by the technical inventions of the west, and the huge potential to easily entertain large amounts of people, India and surrounding regions quickly formed their own bastions of movie production, which remain largely ignored by the rest of world's population for decades to come. As their popularity grow, movies created in the Mumbay's reached the number of 200 annual movies, and birthing the nickname for this movie industry – Bollywood (similar nickname "Tollywood" was fist taken by the cinema of West Bengal, but it was soon adapted by Mombay (Bombay) cinema fans). West continued to ignore cinema efforts of Indian filmmakers, but they acknowledged them when India managed to overtook America as the biggest producer of movies in the world.
From the first Bollywood movie ever created to today, Indian cinema used mix of influences that were gathered from their long history, with a touch of outside trends taken from Hollywood and later on global Television channels. Six major influences made the Bollywood what it is today: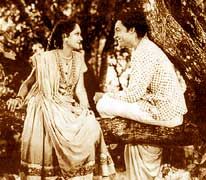 Tradition of Indian epics such as Mahabharata and Ramayana, especially their narrative styles (side story, back story, extensive sub-plots).
Sanskrit theatre that was popular in India until 10th century AD. This gave Bollywood movies a sense of spectacle, dance, music and artistic gestures.
Traditional folk theatre of India that became popular after the decline of Sanskrit theatre.
Parsi theatre, which gave Indian movies sense of humor, melodic song, elaborate dance routine, mix of realism and fantasy, narrative and stage spectacle.
Hollywood, with the musicals and scope of production.
Music television channels such as MTV brought profound changes in the way Bollywood movies were produced after 1900s.
First full-length Bollywood silent movie "Raja Harishchandra " was created in 1913 by Dadasaheb Phalke. Its great success paved the way for the countless movies that followed him and the expansion of the indian cinema industry to incredible heights. Less than 20 years later, India was producing 200 movies per year. One of the largess successes of that time was "Alam Ara" from 1931, sound movie that became basis of the joyful modern Bollywood musical. However quickly after its release, country of India entered into the period of turmoil. Great Depression, WW2, Indian Independence and the violence of the Partition pushed filmmakers to start introduction serious themes into their movies, usually as backdrops to the plots of musicals and dramas. First Indian color movie "Kisan Kanya" was created in 1937, but such movies found popularity only in late 1950s and early 1960s.
As many historians remember today, Golden Age of Indian cinema took place between 1940s and 1960s. During that time countless influential Bollywood movies were released, exploring new storytelling techniues, social themes (mostly struggles and wonders of urban life), epic productions such as Mother India (1957), reincarnation, and more. This period also popularized many Indian actors (Dev Anand, Dilip Kumar, Raj Kapoor, Guru Dutt) and actresses such as (Nargis, Vyjayanthimala, Meena Kumari, Nutan, Madhubala, and others).
1960s gave the birth of the Modern Bollywood cinema, which was most easily spotted with the release avalanche of the two genres that were previously seldom used – action and romance movies. This caused resurgence of new movie stars, and by 70s, gangster and crime movies entered into popularity. 80s and 90s brought back into spotlight musicals, family-centric romantic storylines, comedies and stunt-based action films. Art films also strived, especially after release of Ram Gopal Varma's Satya (1998), that kick-started the genre of Mumbai noir (noir films exploring struggles of urban life).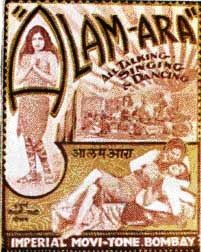 In the new millennia, Bollywood finally managed to reach outside of India and land in the West. Many of their lavish productions received significant box office success all around the world, especially after the critical success of "Lagaan: Once Upon a Time in India" in 2001.